You have put a lot of effort in creating and optimizing your content. You experience steady growth in organic traffic and see how your website is getting more and more visits. This is amazing!
But is it enough to estimate your SEO effectiveness?
Without a doubt, you know how important content marketing is, but how to prove all your efforts were effective and made a remarkable contribution to the business's success?
Exactly for this reason we need KPIs. Analyzing your performance can help you understand how successful your SEO and content strategy is.
The key question is: which SEO KPIs you should be tracking to prove your success?
In this article, we will cover the following topics:
10 SEO KPIs you should track in 2023
Let us explore which KPIs you should pay attention to in 2023!
1. Web Vitals
Web Vitals is one of the latest initiatives from Google.
By introducing this new SEO KPI Google aims to provide guidance on key elements of good website performance. In other words, Web Vitals will represent a set of metrics that matters the most for ensuring a good user experience.
Important to understand that this set of metrics will evolve over time.
Currently, this SEO KPI consists of three main components or metrics:
Therefore, from now on to rank higher on Google you need to make sure you monitor and improve these SEO KPIs.
Tools for diagnosing your Web Vitals:
2. Organic traffic
One of the most important SEO KPIs you should keep an eye on is Organic traffic. This SEO KPI indicates how many visitors your website had derived from organic search results. In other words, how many people landed on your website after using search engines like Google or Bing.
We consider this SEO KPI as one the most crucial since it helps us to reach one of the main goals of SEO – bring more visitors to our website. By focusing on increasing Organic traffic companies improve their brand awareness and increase reach.
On Google Analytics you can track not only your overall organic traffic to your website but also organic traffic to specific pages that you want to analyze.
Monitoring Organic traffic can help you to understand which pages perform better and which need further improvement.
3. Page load time
Another crucial KPI that should be checked regularly is Page load time.
Although it may sound not SEO-related at all, this metric has a big impact on overall SEO performance. Slow loading time makes people bounce, and this directly affects your website's SEO ranking. The more people bounce the lower Google will rank your site.
Remember the last time you visited a website that took a lot of time to load – how much did you wait before closing the webpage?
On average, users tend to bounce if the website takes more than 3 seconds to load.
Users who had a bad first impression with your website will most likely not want to return.
Therefore, always check how fast your pages are loading. You don't want this KPI to mess up your SEO efforts and user experience of your website.
4. Search ranking
One of the cherished dreams of any SEO manager is to make the content appear on the first page in Google, or at least on the first three pages of Google.
The higher your content is ranking the higher the chance of getting broader reach, increase in traffic, leads, and conversions.
The performance of this SEO KPI can depend on various factors such as keyword competition, content relevancy, your website's domain authority, Organic CTR, Bounce Rate, and etc.
Therefore, to improve the search ranking you need to take into account all of these factors.
Don't forget to monitor which keywords you rank higher and make sure they are relevant to your business.
To sum up, search ranking is one of the most crucial SEO KPIs. Constant improvement in your rank position for a specific landing page is a signal that you did a great job with your SEO strategy.
5. Average Organic CTR
Organic CTR represents the ratio between users that actually clicked on your link that appeared in the search engine and the number of total impressions. In other words, how many users who might have seen your link (don't forget that impressions is just an estimation, not a real number) actually clicked on it.
This SEO KPI is important to track because it indicates how good you are at catching audience attention. In order to improve organic CTR make sure that you have an engaging and catchy title and meta description. Use keywords and clearly emphasize the value of your content for the reader.
Think about what could attract your users?Don't forget to apply up-to-date techniques for optimizing your CTR.
6. Pageviews per session
Another important SEO KPI every marketer should pay attention to is the number of page views per session.
This KPI indicates the average number of pages a user visits on your website during one session.
The more pages one user visits per session, the more engaged and interested in your product or service this visitor is.
However, it is important to keep in mind that in case the company has a one-page website. In this case, tracking this SEO KPI will not reveal some valuable information. Instead, session duration would be a more valuable metric to track in this case.
While for companies who have complex and multi-level websites with more complex conversion funnels.
Pageviews per session show the value and relevance of your website and how easily users can navigate through it.
Therefore, in order to improve it is important to make sure that your website has a good UX and all the CTAs on pages are engaging and clear.
7. Average session duration
Another important SEO KPI to track is the average session duration.
This KPI indicates how much time the user spends on average on your website clicking around and navigating through various pages. Depending on the site complexity different companies have different desired average session duration. If you have a website with complex architecture and multiple levels of conversions your goal is to have longer session durations.
This SEO KPI is crucial to track since it can indicate how effective your content is.
8. Bounce rate
The bounce rate indicates the ratio between the number of non-interactive sessions divided by the total number of sessions. In other words, this SEO KPI shows you the percentage of users who exited the page without performing any further interaction with the website.
Even though your website might attract a lot of people and derive a lot of traffic from organic search, it will not bring you more conversions if you have a high bounce rate.
Depending on the industry and the website complexity the average bounce rate can be in the range from 20% to 70%. Therefore, make sure you check your industry's benchmarks. The bounce rate higher than 90% is a red flag for marketers regardless of the industry (unless it is a single-page website). The most common reasons could be bad UX design, slow page loading, irritating pop-up ads, browser compatibility issues, as well as low content relevancy.
9. Top exit pages
Another SEO KPI that can tell you a lot about your content strategy is Top exit pages.
Top exit pages allow you to see the top pages at which users tend to leave your website.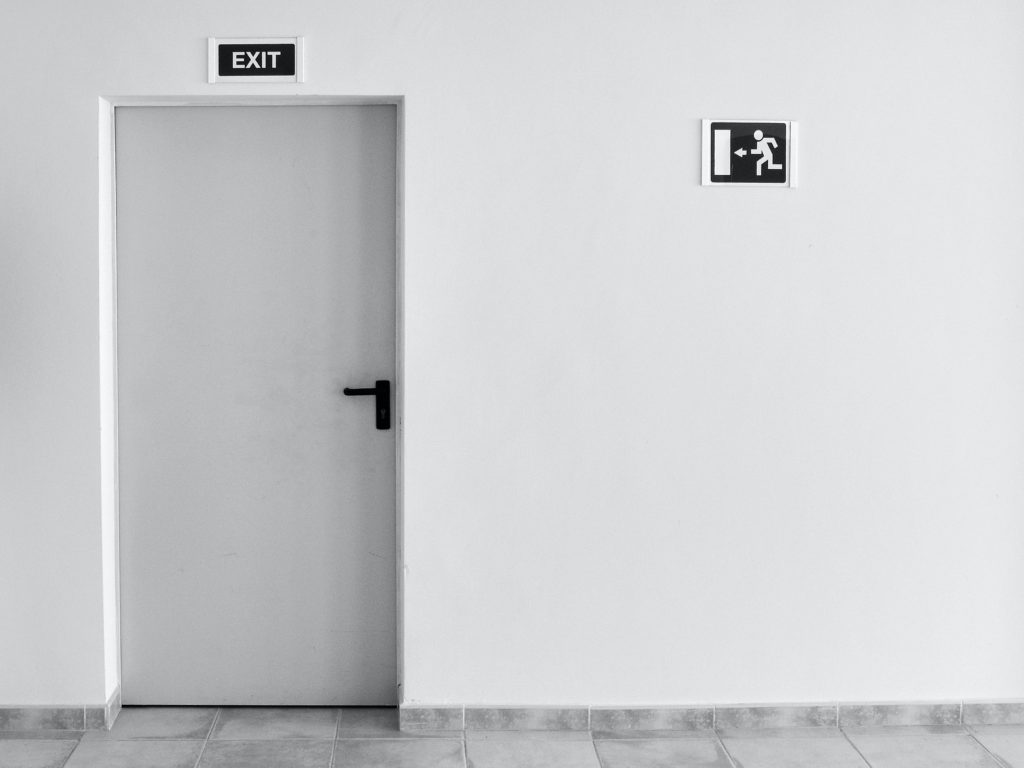 This can be extremely important to monitor in the context of your customer journey. By tracking this SEO KPI you can better understand your customers' behavior and analyze what could be the reasons why a customer left the page.
It is absolutely normal to have a higher exit rate on those pages that implies a customer leaving: e.g. "Thank you page" or a page with the contact form.
10. Conversion rate or number of new leads
You cannot ignore this SEO KPI because, in the end, it is all that matters. Indeed, you optimize the content in order to get more traffic, improve your search ranking, and increase CTR while maintaining the reasonable bounce rate and increasing average session duration. But in the end, you want to not only increase your brand awareness but also generate new leads. This is the crescendo of all your SEO efforts combined.
What exactly is lead?
In marketing, lead is defined as a person who is interested in the company's product or service. A user becomes a lead when he or she shows interest in the company's services by sharing any type of contact information with the company: e.g. email or phone number.
By understanding which pages help you to generate more leads or conversions, you can better understand how effective your content strategy is.To improve your conversation rate pay attention to CRO tactics. Moreover, make sure that your users have a good experience with your website.
How to create an SEO Report based on the Marketing funnel
Important to understand that there is no golden rule on KPIs belonging to a specific funnel stage. Depending on your goal you can move KPIs from one stage to another.
In this article, we want to suggest the most common distribution within the marketing funnel stages.
Awareness
Awareness represents the first top stage of the marketing funnel. At this stage, users recognize the problem and are starting to search for a solution. Having a higher search ranking can help you to be more visible to your audience.
The goal of this stage: increase visibility
SEO KPIs to pay attention to at the Awareness stage: Organic Traffic, Web vitals, Search ranking, Page Load time, Domain Authority, Average Organic CTR, New Visitors.
Consideration
The next step in the funnel is Consideration. Users at this stage are starting to compare different options, exploring websites, and offers in more detail.
The goal of this stage: increase the user's engagement
SEO KPIs to pay attention to at the Consideration stage: Pageviews per Session, Average session duration, Bounce rate, Top exit pages, Returning Visitors.
Conversion
The final and most challenging part of the marketing funnel is Conversion. At this stage, a user makes an action that is considered conversion: e.g. subscribing to a newsletter, registering for a webinar, signing up for a demo, making a purchase, etc.
The goal of this stage: Make a user convert
SEO KPIs to pay attention to at Conversion stage: Conversion rate, number of leads, number of conversions.
We hope this article was useful and now you can easily prove the success of your content strategy!
Keep producing great content and don't be afraid to try out new strategies! 🙂
Download our free ebook and learn the fundamentals of data-drivenness with 17 marketing KPIs!

Learn more about five "Must-track" Marketing KPIs Every Digital Marketer Should Know and Online Advertising Trends in 2023.